Tuesday, October 22nd, 2013, 7 p.m.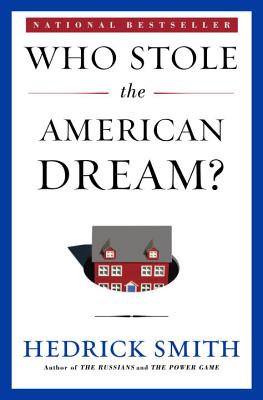 With help from the Harvard Kennedy School New Hampshire Network, Gibson's Bookstore is pleased to welcome Hedrick Smith, the Pulitzer Prize winner, the "New York Times"-bestselling author and PBS "Frontline" reporter, as he presents his remarkable, step-by-step story of how the American Dream was dismantled over the past 40 years by a series of landmark legislative, electoral, and corporate decisions.
Can't make the event? Call us (603-224-0562) or email us (gibsons@totalnetnh.net) to have us put a copy aside to be signed for you.
"Some fine work has been done in explaining the mess we're in. . . . But no book goes to the headwaters with the precision, detail and accessibility of Smith.""--The Seattle Times"

"Sweeping in scope . . . [Smith] posits some steps that could alleviate the problems of the United States.""--USA Today"
"Brilliant . . . [a] remarkably comprehensive and coherent analysis of and prescriptions for America's contemporary economic malaise."--"Kirkus Reviews "(starred review)

"Smith enlivens his narrative with portraits of the people caught up in events, humanizing complex subjects often rendered sterile in economic analysis. . . . The human face of the story is inseparable from the history."--Reuters
Event date:
Tuesday, October 22, 2013 - 7:00pm

$18.00
It's Complicated - Contact Us for More Information
ISBN: 9780812982053
Published: Random House Trade Paperbacks - August 27th, 2013
Pulitzer Prize winner Hedrick Smith's new book is an extraordinary achievement, an eye-opening account of how, over the past four decades, the American Dream has been dismantled and we became two Americas.
 
---