Please Join Us for a Book Signing with Hillary Rodham Clinton
Tuesday, December 5th, 2017, 1:00pm, at Gibson's Bookstore

Hillary Clinton will sign copies of her new book, What Happened.

"In the past, for reasons I try to explain, I've often felt I had to be careful in public, like I was up on a wire without a net.
Now I'm letting my guard down."
—Hillary Rodham Clinton, from the introduction of What Happened
Tickets are now sold out. Please join the waiting list at this link. Tickets will be available online only, so we can keep track of ticket sales.
(This event is a signing line, only. There will be no speech or presentation.)
For the first time, Hillary Rodham Clinton reveals what she was thinking and feeling during one of the most controversial and unpredictable presidential elections in history. Now free from the constraints of running, Hillary takes you inside the intense personal experience of becoming the first woman nominated for president by a major party in an election marked by rage, sexism, exhilarating highs and infuriating lows, stranger-than-fiction twists, Russian interference, and an opponent who broke all the rules. This is her most personal memoir yet.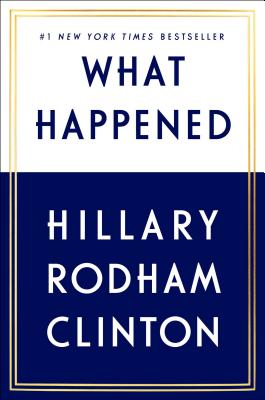 In these pages, she describes what it was like to run against Donald Trump, the mistakes she made, how she has coped with a shocking and devastating loss, and how she found the strength to pick herself back up afterward. With humor and candor, she tells readers what it took to get back on her feet—the rituals, relationships, and reading that got her through, and what the experience has taught her about life. She speaks about the challenges of being a strong woman in the public eye, the criticism over her voice, age, and appearance, and the double standard confronting women in politics.
She lays out how the 2016 election was marked by an unprecedented assault on our democracy by a foreign adversary. By analyzing the evidence and connecting the dots, Hillary shows just how dangerous the forces are that shaped the outcome, and why Americans need to understand them to protect our values and our democracy in the future.
The election of 2016 was unprecedented and historic. What Happened is the story of that campaign and its aftermath—both a deeply intimate account and a cautionary tale for the nation.
Hillary Rodham Clinton is the first woman in US history to become the presidential nominee of a major political party. She served as the 67th Secretary of State—from January 21, 2009, until February 1, 2013—after nearly four decades in public service advocating on behalf of children and families as an attorney, First Lady, and Senator. She is a wife, mother, and grandmother.
Please note, this is a ticketed event. A ticket is $30.00 and includes admission to the book signing line and one copy of What Happened, which Hillary Clinton will sign.
Book Signing Guidelines:
· A ticket is required for each attendee.
· Hillary Clinton will also sign copies of her 2017 illustrated children's book edition of IT TAKES A VILLAGE, available for purchase at the store the day of the event.
· She will sign maximum of two books for each attendee.
· Hillary Clinton will not personalize books.
· She will not sign memorabilia of any kind.
Event date:
Tuesday, December 5, 2017 - 1:00pm