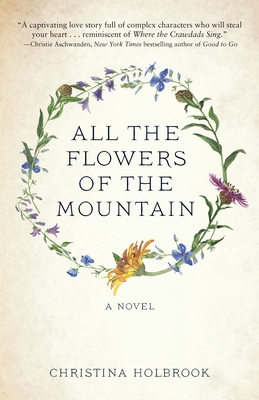 Saturday, August 27th, 2022, 1pm
Christina Holbrook returns to New Hampshire and visits Gibson's Bookstore to present her book, All the Flowers of the Mountain. Set in New Hampshire, All the Flowers of the Mountain is a coming-of-age love story combined with a mystery that haunts the characters for the rest of their lives. Brought to us by the New Hampshire Writer's Project, we're pleased to welcome Holbrook back to NH for this event.
"Replete with the poignancy of Nicholas Sparks and the gritty authenticity of Delia Owens . . . a haunting, evocative exploration of the enduring power of love. Holbrook skillfully combines a page-turning mystery, an insightful examination of social class, and a paean to one young woman's insistence on being true to herself, no matter the odds or the cost." -Emily Colin, New York Times bestselling author of The Memory Thief
In a Paris art gallery, Dr. Michael Pearce comes upon a sculpture by the artist Katherine Morgan. His discovery of the vivid bronze artwork sends Pearce reeling back into his past.
Devastatingly lifelike, the sculpture evokes memories of a summer many years earlier when Michael and Katherine-Kit-met as teenagers by a lake in New Hampshire. He was a small-town boy who skied, played guitar, and was destined to run his father's hardware store; she was the restless, troubled daughter of a wealthy New York family.
Set amidst the mountains, farmlands, and elegant summer homes of rural New England, All the Flowers of the Mountain is the story of a pivotal summer for Michael and Kit. Michael's ambitions are ignited by this young woman-he grows determined that their future will be together. But Kit dreams of becoming an artist and her struggle with a mysterious event from the past leads her to a deadly showdown by summer's end, and decisions that will break Michael's heart.
Masks are strongly encouraged but no longer required for vaccinated attendees. We can't predict the future course of the pandemic, so Gibson's reserves the right to institute masking and/or vaccination rules for this event as circumstances dictate.
ABOUT THE AUTHOR A native of New York and the White Mountains of New Hampshire, Christina Holbrook now lives in Colorado with her husband, Alan Dulit. She received a Bachelor of Arts degree in French and Political Theory from Wellesley College. Holbrook's column Lark Ascending ran in the Summit Daily in Frisco, Colorado, from 2016 through 2020. More recently, her short fiction and essays have appeared in numerous literary journals and anthologies. All the Flowers of the Mountain is her first novel.
Sign up for the events-specific email newsletter from Gibson's Bookstore! Separate from our main store newsletter, this newsletter sends you notices when we book events, and what our upcoming events are! We promise not to sell your email address. https://signup.e2ma.net/signup/1947324/1359315/
Event date:
Saturday, August 27, 2022 - 1:00pm

$21.95

ISBN: 9798986148816
Availability: On Our Shelves Now
Published: Karen Wyatt - July 4th, 2022
Winner of the 2023 Colorado Book Award for RomanceWinner of 2023 IPPY Bronze Medal
---