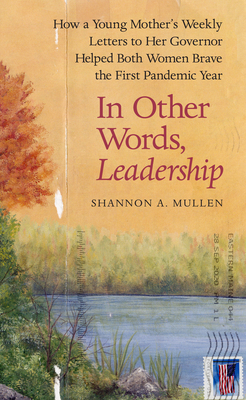 Wednesday, June 14th, 2023, 6:30 p.m.
Author Shannon Mullen visits Gibson's Bookstore to share how a kind word and the power of connection can make a huge difference in a person's life, as she presents her new book In Other Words, Leadership: How a Young Mother's Weekly Letters to Her Governor Helped Both Women Brave the First Pandemic Year.
Two unforgettable women from opposite poles of power in Maine forge an uplifting bond through good, old-fashioned letter writing that helps them navigate the COVID crisis

Both women bring civility, grace, wit, and wisdom to the challenge of protecting those who depend on them — in other words, leadership

This trip to the "Vacationland" of Maine — where the state motto is I Lead — offers an inspiring tale of civility and purpose, of doing the right thing and not just surviving, but prevailing.

The first woman to serve as governor of Maine, Janet Mills, had been in office a year when COVID-19 reached the United States. The recently-widowed 72-year-old wrote in her journal there is "no playbook for a pandemic" as she imposed unprecedented restrictions on her state.

When early support for the governor's response curdled to rampant opposition, a young mother named Ashirah Knapp sent a letter of support from a remote homestead in the woods of Maine. Ashirah's handwritten dispatch detailed how the public health emergency was upending her family's life and livelihood, and she promised to keep writing "every week until we are through this time" to remind the governor how many Mainers supported her despite the disruption.

Ashirah's letters, with their simple wisdom and striking penmanship, stood out in a flood of correspondence Governor Mills was receiving that ranged in tone from appreciative to furious. They helped keep her grounded as she made wrenching, often unpopular choices.

Shannon A. Mullen weaves from these two women's letters and the governor's journal, which were never intended for publication, an intimate and compelling true story that is a celebration of civility and compassion in the face of rancor and of resolve in the face of adversity.
Masks are strongly encouraged but no longer required for vaccinated attendees. We can't predict the future course of the pandemic, so Gibson's reserves the right to institute masking and/or vaccination rules for this event as circumstances dictate.
Sign up for the events-specific email newsletter from Gibson's Bookstore! Separate from our main store newsletter, this newsletter sends you notices when we book events, and what our upcoming events are! We promise not to sell your email address. https://signup.e2ma.net/signup/1947324/1359315/
Event date:
Wednesday, June 14, 2023 - 6:30pm

$29.95

ISBN: 9781586423681
Availability: On Our Shelves Now
Published: Steerforth - June 20th, 2023
"A remarkable story of work, worry, art, faith, community, life, and hope. An instant classic."  — Heather Cox Richardson

"A heartfelt and moving story . . . Just as important, it's also a well-timed lesson in civics."  — Richard Russo, author of Empire Falls

---