Friday, April 13th, 2018, 6 p.m.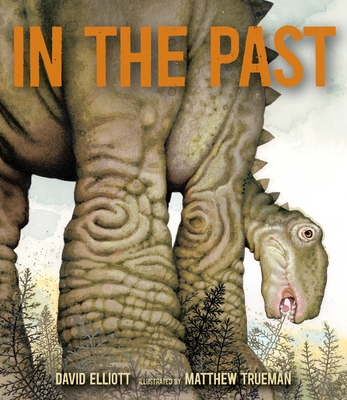 Join Gibson's for a poetic prehistoric journey through time as David Elliott presents the newest addition to his acclaimed library of poetry picture books, In the Past: From Trilobites to Dinosaurs to Mammoths in More Than 500 Million Years -- a perfect way to celebrate Poetry Month!
Return to the prehistoric era and discover a host of creatures both novel and familiar, from the mysterious trilobite to the famed T. rex.Care to meet a dunkleosteus? An apatosaurus? How about the dragonflyesque meganaura? In a collection that's organized chronologically by epoch and is sure to intrigue everyone from armchair dino enthusiasts to budding paleontologists, David Elliott and Matthew Trueman illuminate some of the most fascinating creatures ever to evolve on the earth. Combining poems both enlightening and artful with illustrations perfect for poring over, this volume ensures fascinating trips back to a time as enthralling and variable as any in our planet's evolutionary history.
About the Author: David Elliott is the award-winning author of many books for children, including the New York Times best-selling And Here's to You! as well as On the Farm, In the Wild, In the Sea, and On the Wing. He is also the author of Baabwaa and Wooliam, illustrated by Melissa Sweet; Nobody's Perfect, illustrated by Sam Zuppardi; and The Two Tims, illustrated by Gabriel Alborozo. David Elliott lives in Warner, New Hampshire.
ATTENTION EDUCATORS! Teachers and librarians who attend the event will receive a free teachers guide to David Elliott's poetry picture books.
Event date:
Friday, April 13, 2018 - 6:00pm