Thursday, January 16th, 2020, 6 p.m.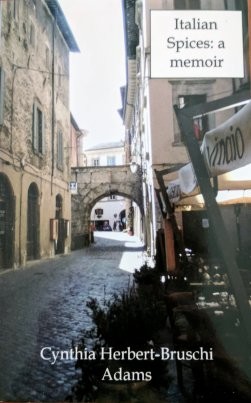 Cynthia Herbert-Bruschi Adams returns to New Hampshire to tell the story of her connection to her Italian family, beginning with her first 3-month trip to Rome at 12, and spanning 50 years of travel to and visitors from Italy, in Italian Spices: A Memoir. This is a story of surprises, adjustments and growth which partly imitates her immigrant mother's trajectory as a war-bride first arriving in the US right after WWII. It is also the story of strong bonding between cousins and the gifts of her Italian cousin, Elena, as her life ended prematurely. Italian Spices is part travelogue, part cookbook, written with affection for her Italian kin and peppered with delicious family recipes.
About the author: Cynthia Herbert (Bruschi) Adams was born in Vermont, raised in New Hampshire and spent her adult life in Connecticut and Rhode Island. She holds the title of Professor Emerita from the University of Connecticut and was a licensed psychologist. She is the author of numerous research articles, academic papers and textbooks.
Cindy briefly lived in Italy as a child and has enjoyed many return visits with her family. She resides in Connecticut with her husband, Roger and their dog, Dougal.
Event date:
Thursday, January 16, 2020 - 6:00pm

$20.00
ISBN: 9780974797335
Availability: On Our Shelves Now
Published: Arts and Academic Publishing - August 1st, 2019
This is a story of family love over long distance. At age 12 the author had no idea of what to expect when she left Manchester, NH for a 16 hour propeller flight out of Boston eventually landing in Rome, Italy where she would live for 3 months.
---