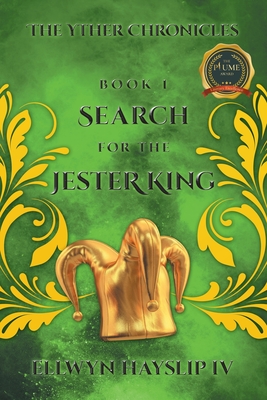 Tuesday, October 10th, 2023, 6:30 pm
We love when our loyal customers become authors, and so we're pleased to host Canterbury author Ellwyn Hayslip IV for their new book, The Yther Chronicles: Search for the Jester King.
A mysterious tablecloth becomes a portal to adventures beyond imagining, transporting three ordinary teenagers into Yther, the dimension of living dreams. Joining forces with fantastic fantasy creatures and acquiring incredible powers, Abby, Cayla, and Matt must travel through many wondrous realms in the chimeric dream world, confronting and battling terrifying nightmare monsters in their quest to defeat an evil wizard and restore power to Yther's true king, who lies trapped in slumber at an unknown location. The quest will take all their courage, resourcefulness, and imagination, and the fate of all of Yther, and perhaps their own world as well, hangs in the balance.
If you cannot make this event, copies of Search for the Jester King may be ordered from the Gibson's Bookstore website. Put your signing requests in your order comments!
Sign up for the events-specific email newsletter from Gibson's Bookstore! Separate from our main store newsletter, this newsletter sends you notices when we book events, and what our upcoming events are! We promise not to sell your email address. https://signup.e2ma.net/signup/1947324/1359315/
Event date:
Tuesday, October 10, 2023 - 6:30pm

$13.99

ISBN: 9798888109182
Availability: On Our Shelves Now
Published: Writers Republic LLC - May 19th, 2023
---