Wednesday, June 24th, 2015, 1 PM (note time!)
Join us for a rare afternoon event as we welcome New Hampshire's former governor, John Sununu, as he presents his biography of President George H W Bush. This book sets the stage as home-grown primary source material for the big George H W Bush bio by Jon Meacham, coming out in November.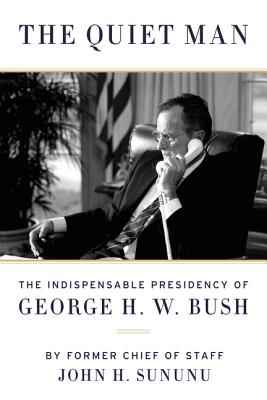 From the unique perspective of President George H.W. Bush's White House chief of staff, Governor John Sununu recounts the 1989 - 1993 Bush presidency. As chief of staff, Sununu was an active participant in and front-row observer to the most significant events of the Bush presidency, and witness to some profoundly important transitions in geopolitics, including the Gulf War and fall of the Soviet Union, recounted here in valuable detail. Respectful yet scrupulously honest, he reveals policy conflicts and clashes, as well as inside alliances among the diverse personalities in and out of the White House, giving credit and candid criticism where it's deserved.
Can't make this event? Give us a call (603-224-0562) or email (gibsons@gibsonsbookstore.com) to have us set a copy aside to be signed for you.
Event date:
Wednesday, June 24, 2015 - 1:00pm

$28.99
Email or call for price.
ISBN: 9780062384287
Published: Broadside Books - June 9th, 2015
In this major reassessment of George Herbert Walker Bush, the 41st president of the United States, his former Chief of Staff offers a long overdue appreciation of the man and his universally underrated and misunderstood presidency.

"I'm a quiet man, but I hear the quiet people others don't."—George H. W. Bush
---