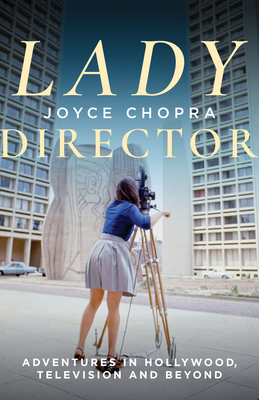 Friday, January 27th, 2023, 8pm Eastern. Online only via Crowdcast. Registration required: https://www.eventbrite.com/e/487078554067
Gibson's Bookstore has partnered with The King's English Bookshop and Black Walnut Books to present a virtual discussion with director and author Joyce Chopra who will discuss her memoir, Lady Director: Adventures in Hollywood, Television and Beyond. Chopra will be in conversation with Washington Post reporter and film editor at the Los Angeles Review of Books, Annie Berke.
Order your copy of Lady Director from Gibson's Bookstore and receive an autographed book plate (while supplies last)!
About the book:
Hailed by the New Yorker as "a crucial forebear of generations," award-winning director Joyce Chopra came of age in the 1950s, prior to the dawn of feminism, and long before the #MeToo movement. As a young woman, it seemed impossible that she might one day realize her dream of becoming a film director--she couldn't name a single woman in that role. But with her desire fueled by a stay in Paris during the heady beginnings of the French New Wave, she was determined to find a way.
Chopra got her start making documentary films with the legendary D.A. Pennebaker. From her ground-breaking autobiographical short, Joyce at 34 (which was acquired for NY MoMA'S permanent collection), to her rousingly successful first feature, Smooth Talk (winner of the Best Director and Grand Jury Prize at Sundance in 1985), to a series of increasingly cruel moves by Hollywood producers unwilling to accept a woman in the director's role, Chopra's career trajectory was never easy or straightforward.
In this engaging, candid memoir, Chopra describes how she learned to navigate the deeply embedded sexism of the film industry, helping to pave the way for a generation of women filmmakers who would come after her. She shares stories of her bruising encounters with Harvey Weinstein and Sydney Pollack, her experience directing Diane Keaton, Treat Williams, and a host of other actors, as well as her deep friendships with Gene Wilder, Arthur Miller, and Laura Dern.
Along with the successes and failures of her career, she provides an intimate view of a woman's struggle to balance the responsibilities and rewards of motherhood and marriage with a steadfast commitment to personal creative achievement. During a career spanning six decades, Joyce Chopra has worked through monumental shifts in her craft and in the culture at large, and the span of her life story offers a view into the implacable momentum of the push for all womens' liberation.
Annie Berke is the film editor at the Los Angeles Review of Books, a host for the Film channel of the New Books Network podcast, and the author of Their Own Best Creations: Women Writers in Postwar Television (University of California Press, 2022). You can read her criticism in such outlets as The A.V. Club, Literary Hub, Public Books, Ms., and The Washington Post
Event date:
Friday, January 27, 2023 - 8:00pm

$17.95

ISBN: 9780872868687
Availability: On Our Shelves Now
Published: City Lights Books - November 22nd, 2022
An intimate account of a seminal filmmaker's development-as a creator and as a woman--both in art and in life.
---

$32.95

ISBN: 9780520300798
Availability: Usually Ships in 1-5 Days
Published: University of California Press - January 4th, 2022
A rich account that combines media-industry history and cultural studies, Their Own Best Creations looks at women writers' contributions to some of the most popular genres of postwar TV: comedy-variety, family sitcom, daytime soap, and suspense anthology.
---