Thursday, August 4th, 2022, 6:30 pm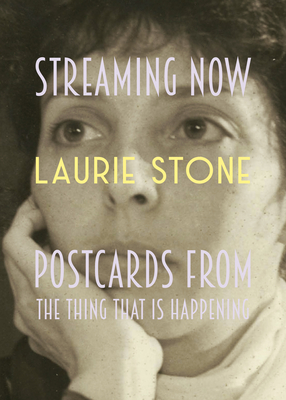 Laurie Stone visits Gibson's Bookstore to share and discuss Streaming Now: Postcards from the Thing That Is Happening, a collection of hybrid feminist narratives that perfectly captures the many paradoxes of the COVID-19 pandemic, contrasting the seemingly never-ended public catastrophes we experienced as a collective with the isolated, often-mundane lives we carried out in private.
Masks are strongly encouraged but no longer required for vaccinated attendees. We can't predict the future course of the pandemic, so Gibson's reserves the right to institute masking and/or vaccination rules for this event as circumstances dictate.
Laurie Stone's collection of essays detail what has been lost and what we joyfully may not miss. Stone likes the secrets people know and don't tell. Like maybe we don't want to go back to how things were. Writing in the Next, as she puts it, doesn't sound like writing from the Before. Working with jump cuts in time and mashups of memoir and criticism, she celebrates the freedom we may have gained from the world's broken narrative—we can leave behind stories that go in only one direction and end in resolution.
Because she loves you, she will tell you anything—whether it's the moral ambiguities of buying a lobster from Trump supporters or making the case to let Jeffrey Toobin's penis off the hook.
In a time when most of us felt more alone than ever before, Laurie Stone's Streaming Now: Postcards from the Thing That Is Happening is a retroactive but no less timely reminder that we were less alone in our thoughts than we thought.
About the author: Laurie Stone is the author of Everything is Personal: Notes on Now and My Life as an Animal, Stories. She has published numerous stories in such publications as n + 1, Waxwing, Tin House, Evergreen Review, Fence, Open City, Threepenny Review, and Creative Nonfiction. She lives in New York City.
Sign up for the events-specific email newsletter from Gibson's Bookstore! Separate from our main store newsletter, this newsletter sends you notices when we book events, and what our upcoming events are! We promise not to sell your email address. https://signup.e2ma.net/signup/1947324/1359315/
Event date:
Thursday, August 4, 2022 - 6:30pm