Tuesday, March 30th, 2021, 7pm Eastern. Online only via Zoom. Registration required: https://www.eventbrite.com/e/136968641895
Did you miss this event? Not to worry, we recorded it! You can watch it on the Gibson's Bookstore Youtube channel: https://youtu.be/DQlJ241mR2M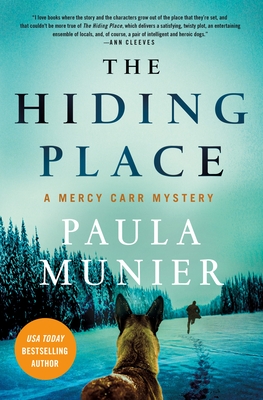 Paula Munier returns to Gibson's Bookstore virtually to present the third in her Mercy Carr Mystery series, The Hiding Place! She is joined in conversation by Hank Phillippi Ryan as they discuss mystery writing, murder, and dogs.
Some people take their secrets with them to the grave. Others leave them behind on their deathbeds, riddles for the survivors to solve.
Mercy and Elvis are back in The Hiding Place, the most enthralling entry yet in USA Today bestselling Paula Munier's award-winning Mercy Carr mystery series. When the man who killed her grandfather breaks out of prison and comes after her grandmother, Mercy must unearth the long-buried scandals that threaten to tear her family apart. And she may have to do it without her beloved canine partner Elvis, if his former handler has his way….
Event date:
Tuesday, March 30, 2021 - 7:00pm