Thursday, March 2nd, 2017, 5:30 p.m.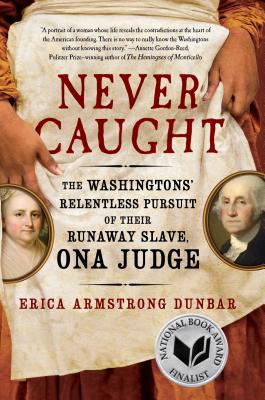 An astonishing deception by the father of our country is revealed in a new book, Never Caught: The Washingtons' Relentless Pursuit of Their Runaway Slave, Ona Judge, presented by historian Erica Armstrong Dunbar. George Washington skirted Philadelphia's anti-slavery laws during his 6-year residency there during his term in office, cycling his slaves in and out of Mount Vernon every six months in order to avoid the city's time limit on slaveholding. But he met his match in one enslaved young woman.
Never Caught is the first full-length account of the life of Ona Judge, who was owned by George and Martha Washington. This young slave escaped to Portsmouth, NH to avoid being given as a wedding gift, and lived out the rest of her life in Greenland, NH. The amazing interviews she left behind offer the only existing testimony from an enslaved person owned by the first First Couple. They are quite possibly the only first-person account of an eighteenth-century fugitive.
About the author: Erica Armstrong Dunbar is the Blue and Gold Professor of Black Studies and History at the University of Delaware. In 2011, Professor Dunbar was appointed the first director of the Program in African American History at the Library Company of Philadelphia. She has been the recipient of Ford, Mellon, and SSRC fellowships and is an Organization of American Historians Distinguished Lecturer. Her first book, A Fragile Freedom: African American Women and Emancipation in the Antebellum City was published by Yale University Press in 2008.
Event date:
Thursday, March 2, 2017 - 5:30pm

$26.00
Likely available, but must be ordered by email/phone
ISBN: 9781501126390
Published: 37 Ink - February 7th, 2017
Finalist for the National Book Award for Nonfiction

"A fascinating and moving account of a courageous and resourceful woman.
---