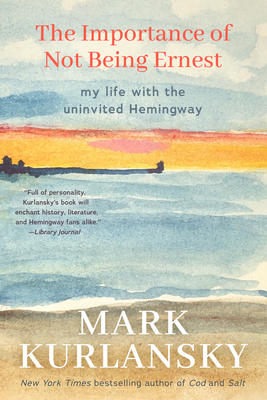 Monday, June 13th, 2022, 8pm ET. Online only via Zoom. Registration required: https://www.eventbrite.com/e/333602322527
Gibson's Bookstore is pleased to join Books & Books (Miami), the Miami Book Fair and indie bookstores across the country virtually as author Mark Kurlansky (Cod: A Biography of the Fish that Changed The World) presents an Ernest Hemingway biography like no other, The Importance of Not Being Ernest: My Life with the Uninvited Hemingway.
Discover Hemingway's biography through the eyes of a fellow author and journalist. New York Times bestselling author of Salt, Mark Kurlansky turns his historical eye to the life of Ernest Hemingway. Sometimes funny, sometimes sad, The Importance of Not Being Ernest shows the huge shadow Hemingway casts.
The perfect gift for writers. By a series of coincidences, Mark Kurlansky's life has always been intertwined with Ernest Hemingway's legend, starting with being in Idaho the day of Hemingway's death. The Importance of Not Being Ernest explores the intersections between Hemingway's and Kurlansky's lives, resulting in creative accounts of two inspiring writing careers. Travel the world with Mark Kurlansky and Ernest Hemingway in this personal memoir, where Kurlansky details his ten years in Paris and his time as a journalist in Spain--both cities important to Hemingway's adventurous life and prolific writing.
Sign up for the events-specific email newsletter from Gibson's Bookstore! Separate from our main store newsletter, this newsletter sends you notices when we book events, and what our upcoming events are! We promise not to sell your email address. https://signup.e2ma.net/signup/1947324/1359315/
Event harassment policy
We expect all participants to maintain an atmosphere of respect and fairness. Anyone who violates this standard of behavior, including engaging in any form of harassment, or otherwise disrupts the event, may, at the discretion of the organizers, be immediately removed. Participants removed as a result of their behavior will not receive any refund.
Event date:
Monday, June 13, 2022 - 8:00pm

$24.95

ISBN: 9781642504637
Availability: On Our Shelves Now
Published: Books & Books - May 31st, 2022
In The Importance of Not Being Ernest, acclaimed journalist and New York Times bestselling author Mark Kurlansky focuses on the sprawling life and work of Ernest Hemingway while drawing parallels to his own. This memoir and biography contains an in-depth analysis of the places and people in Hemingway's life.
---