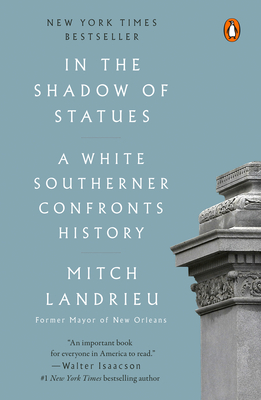 Mon., April 8th, 5:30-7:00 PM (discussion title will be In the Shadow of Statues: A White Southerner Confronts History, by Mitch Landrieu)
Reasonable people of all political persuasions view the increased polarization of our politics with dismay. Too often, we're only talking to people who agree with us. Anyone who doesn't agree is an idiot, a troll, or a monster. This "siloing" of ideas and experiences undercuts our nation's ability to address urgent problems and take necessary actions.

This isn't just a left vs.right issue. It has corrupted the internal politics of both the left and the right, with ideological purity being the impossible standard for legitimate opinion.

To encourage more real dialogue, Gibson's Bookstore is joining with a handful of other bookstores in a new initiative. Called the Open Discussion Project, the idea is to set up reading groups of liberals and conservatives that will meet monthly and share views about books on race, climate change, guns, immigration, money in politics, and other controversial issues. The groups—one in each participating store—will be moderated by professional facilitators to ensure all opinions are heard and conversations remain respectful.

The goal of this effort is not conversion but conversation, empathy, and understanding. We're not aiming to determine winners or losers or to persuade others to particular points of view, but to create opportunities for people to speak freely with each other about matters that deeply divide them. Similar community initiatives are underway around the country. Our plan is to draw on lessons learned from these efforts, establishing a space in our own stores where people can step outside their echo chambers and engage with, and more fully comprehend, those with differing points of view.

Overseeing this project are three national organizations devoted to encouraging democratic dialogue and civic participation. They include: the American Booksellers Association, which represents more than 2,000 independent bookstores; the National Coalition Against Censorship, a non-partisan alliance of 56 national non-profits; and the National Institute for Civil Discourse, a non-partisan group based at the University of Arizona that works with elected officials, journalists, and the public to address incivility and political dysfunction.

The other participating bookstores, located in different parts of the country, are: Anderson's Bookshop (Naperville, IL), Politics & Prose (Washington, DC), Quail Ridge Books (Raleigh, NC), Schuler Books & Music (Grand Rapids, MI), and Vroman's Bookstore (Pasadena, CA).

Fueling our hope for this initiative is the belief that Americans—as polarized as they now are—still share many values and life experiences that make reasoned discussion of their differences possible.
Event date:
Monday, April 8, 2019 - 5:30pm

$16.00

ISBN: 9780525559467
Availability: Backordered
Published: Penguin Books - March 19th, 2019
The New Orleans mayor who removed the Confederate statues confronts the racism that shapes us and argues for white America to reckon with its past. A passionate, personal, urgent book from the man who sparked a national debate.

---