Wednesday, January 13th, 2021, 7pm Eastern, online only via Zoom.
Did you miss this event? Not to worry, we recorded it! You can view it on our Youtube channel, here: https://youtu.be/RNtDFQ5HJg8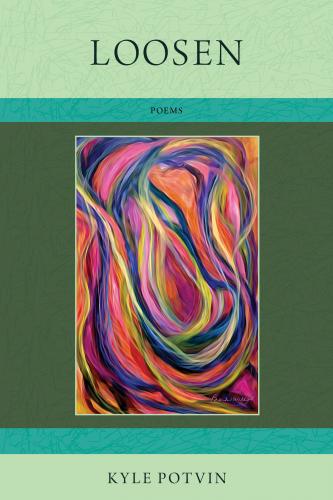 Poet Kyle Potvin returns to Gibson's Bookstore, virtually, to read from her new volume of verse, Loosen, from the Hobblebush Granite State Poetry Series. She will be joined by fellow poet Maudelle Driskell (Executive Director of The Frost Place) to discuss the themes of the poems.
About the poet: Kyle Potvin's chapbook, Sound Travels on Water (Finishing Line Press), won the Jean Pedrick Chapbook Award. She is a two-time finalist for the Howard Nemerov Sonnet Award and received a commendation in the 2019 International Hippocrates Open Prize for Poetry in Medicine. Her poems have appeared in Bellevue Literary Review, Crab Creek Review, Tar River Poetry, The New York Times, JAMA, and others. Her work has also appeared in various anthologies. Kyle is cofounder with Tammi Truax of the Prickly Pear Poetry Project: Processing the Cancer Experience Through Poetry, a workshop for survivors and caregivers. A member of the Powow River Poets and Frost Farm's Hyla Brook Poets, she is an advisor to Frost Farm Poetry in Derry, New Hampshire, and served as assistant director of the New Hampshire Poetry Festival for five years. Kyle runs a public relations firm and lives with her husband and two sons in southern New Hampshire.
Maudelle Driskell holds an MFA in poetry from Warren Wilson College. Her work has been published in many literary reviews and anthologies. She is the recipient of the Ruth Lilly Fellowship, awarded by Poetry and the Modern Language Association. Raised in south Georgia, Driskell lived most of her adult life in Atlanta. She now lives in Bethlehem, New Hampshire, where she is the executive director of The Frost Place, an arts organization headquartered in Robert Frost's historic home. Driskell is constantly inspired by the legacy of Robert Frost and the beauty of the landscape.
Event date:
Wednesday, January 13, 2021 - 7:00pm
$9.95
ISBN: 9781939449078
Availability: Available Now
Published: Hobblebush Books - October 3rd, 2014
---

$16.00
ISBN: 9781939449030
Availability: Special Order
Published: Hobblebush Books - April 15th, 2014
Poetry. Mature and provocative, this is a stunning first book, says poet Cleopatra Mathis. TALISMANS brims with ceremonial relics and attendant epiphanies-from Jesus's hand to Elvis's wart, from a child's marvel at an ice-covered jungle gym to a lover's anguish in a formal tea garden. In the title poem, Driskell narrates a flea-market crowd's delight at the Elvis memorabilia put up for sale.
---