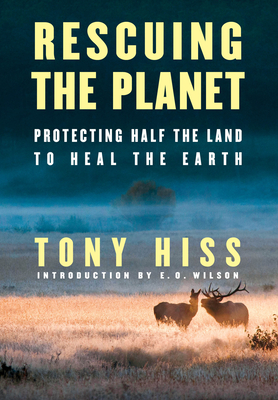 Wednesday, April 7th, 2021, 7pm EST. Online only, via Zoom. Registration required: https://www.eventbrite.com/e/146805197297
Did you miss this event? You can view it on the Gibson's Bookstore Youtube channel: https://youtu.be/yLfEKKBTEJk
Tony Hiss visits Gibson's Bookstore virtually to present Rescuing the Planet: Protecting Half the Land to Heal the Earth, a book about wilderness conservation to save our planet and ourselves.
RESCUING THE PLANET is an urgent argument in support of protecting 50% of the earth's land by 2050–thereby saving millions of its species. Hiss not only invites us to understand the scope and gravity of the problems we face, but also makes the case for why protecting half the land is the way to fix those problems. He highlights the important work of the many groups already involved in this fight, and introduces us to the engineers, geologists, biologists, botanists, oceanographers, ecologists, and other "Half Earthers" like Hiss himself who are allied in their dedication to the unifying, essential cause of saving our own planet from ourselves.
"Tony Hiss has not just captured the possibility of large-scale conservation, he's understood that it needs to be connected with human beings. The idea of Indigenous Protected Areas that he describes is one of those prospects—simultaneously radical and obvious—that might give us a fighting chance in the decades ahead!"
—Bill McKibben, author of Falter: Has the Human Game Begun to Play Itself Out?
"A passionate argument for protecting the world's rapidly shrinking wilderness . . . [Hiss] describes a campaign to protect 50% of the world's land [and] illustrates his thought-provoking arguments with a handful of North American projects, including a major expansion of the Appalachian Trail, rejuvenation of New Jersey's Pine Barrens, restoration of the vast pine forests in the Southeast, and conversion of Yellowstone into a Greater Yellowstone protected area, essential to preserve its diminishing species . . . A combination of passion, inspiration, and rigor."
—Kirkus Reviews (starred review)
"Hiss creates a sense of hope with lyrical descriptions and immersive portrayals of various programs across the continent . . . This eye-opening survey will leave readers inspired."
—Publishers Weekly (starred review)
Event date:
Wednesday, April 7, 2021 - 7:00pm

$28.00
ISBN: 9780525654810
Availability: On Our Shelves Now
Published: Knopf - March 30th, 2021
"As clear a picture of humanity's impact on earth's natural environment as any ever written." --E. O. Wilson (from the Introduction)

---