Wednesday, April 13th, 2022, 7pm Eastern. Online only via Zoom Webinar. Registration required: https://www.eventbrite.com/e/261168521077
Did you miss this event? You can watch the event recording on the Gibson's Bookstore Youtube channel: https://youtu.be/YwBlfKSErk4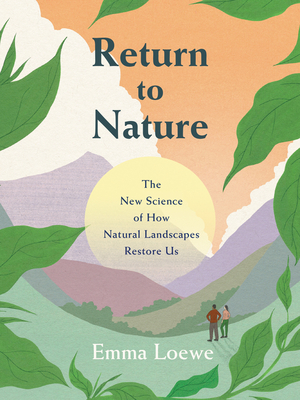 From the co-author of The Spirit Almanac and mindbodygreen's Senior Sustainability Editor comes a timely guide to reconnecting with the outdoors, with new science on why nature makes us healthier and happier in body and soul. Author Emma Loewe visits Gibson's Bookstore virtually to present Return to Nature: The New Science of How Natural Landscapes Restore Us. She is joined in conversation by Gibson's alum Hannah Fries, author of Forest Bathing Retreat: Find Wholeness In the Company of Trees (new edition and title coming in August 2022, Being with Trees: Awaken Your Senses to the Wonders of Nature; Poetry, Reflections & Inspiration).
Join Emma and Hannah as they discuss how humans have fallen out of sync with nature, even as science acknowledges all the healing benefits of being outside, and how and why we can live longer and happier lives surrounded by wildness.
~*~*~
For centuries, we have known that nature is good for us. But in an era when climate change is accelerating and we spend 87% of our days indoors, it is clear that we are out of sync with the earth that nourishes us. In response, writer and environmentalist Emma Loewe blends new research and ancient knowledge on nature's healing properties into a book divided into eight landscapes, with wisdom on how to explore and protect each one in return. Drawing off modern science, she uncovers why living by the ocean makes you measurably happier, why living near greenery helps you lives longer, and why forests can make us more relaxed within 90 seconds of walking among trees.
Alongside beautiful four-color illustrations that inspire readers to get outside, this stunning book—more urgent than ever—will appeal to anyone looking to connect with the world around them, whether in their neighborhood park or on a backpacking getaway.
Sign up for the events-specific email newsletter from Gibson's Bookstore! Separate from our main store newsletter, this newsletter sends you notices when we book events, and what our upcoming events are! We promise not to sell your email address. https://signup.e2ma.net/signup/1947324/1359315/
Event date:
Wednesday, April 13, 2022 - 7:00pm