Wednesday, July 25th, 2018, 5:30 p.m.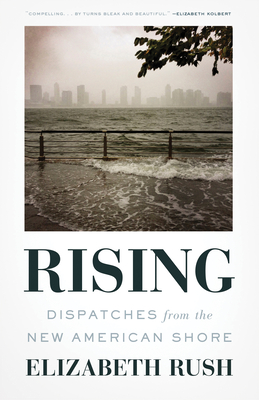 Harvey. Maria. Irma. Sandy. Katrina. We live in a time of unprecedented hurricanes and catastrophic weather events, a time when it is increasingly clear that climate change is neither imagined nor distant--and that rising seas are transforming the coastline of the United States in irrevocable ways. Elizabeth Rush visits Gibson's Bookstore to present Rising: Dispatches from the New American Shore, and discuss our future.
"Timely and urgent, this report on how climate change is affecting American shorelines provides critical evidence of the devastating changes already faced by some coastal dwellers. Elizabeth Rush masterfully presents firsthand accounts of these changes... In the midst of a highly politicized debate on climate change and how to deal with its far-reaching effects, this book deserves to be read by all." —Publishers Weekly (starred review)
"Sea level rise is not some distant problem in a distant place. As Elizabeth Rush shows, it's affecting real people right now. Rising is a compelling piece of reporting, by turns bleak and beautiful." —Elizabeth Kolbert
"Rising is a smart, lyrical testament to change and uncertainty. Elizabeth Rush listens to both the vulnerability and resiliency of communities facing the shifting shorelines of extreme weather. These are the stories we need to hear in order to survive and live more consciously with a sharp-edged determination to face our future with empathy and resolve. Rising illustrates how climate change is a relentless truth and how real people in real places know it by name, storm by flood by fire." —Terry Tempest Williams
"Rising is not just a book about rising sea levels and the lost habitats and homes—it's also a moving rumination on the rise of women as investigative reporters, the rise of tangible solutions, and the rise of human endeavor and flexibility. It is also a rising of unheard voices; one of the eloquent beauties of this book is the inclusion of various stories, Studs Terkel-style, of those affected most by our changing shoreline. A beautiful and tender account of what's happening—and what's in store." —Laura Pritchett
"A strange new kind of travel guide, Rising is a journey through the turbulent forefront of climate change—the coastal communities, rich and poor, human and nonhuman, that are already feeling the first effects of our rising seas. ElizabethRush sets out to put a face on a subject that is all too often depicted in abstract graphs and statistics, and gives us a group portrait of the men and woman who are fighting, fleeing, and adapting to the terrible disappearance of the land they live on." —Charles C. Mann

Event date:
Wednesday, July 25, 2018 - 5:30pm

Email or call for price.
ISBN: 9781571313676
Availability: Out of Print
Published: Milkweed Editions - June 12th, 2018
FINALIST FOR THE PULITZER PRIZE IN GENERAL NONFICTION
WINNER OF THE NATIONAL OUTDOOR BOOK AWARD
A CHICAGO TRIBUNE TOP TEN BOOK OF 2018
A GUARDIAN, NPR's SCIENCE FRIDAY, PUBLISHERS WEEKLY, AND LIBRARY JOURNAL BEST BOOK OF 2018
---