Thursday, April 6th, 2017, 7 p.m.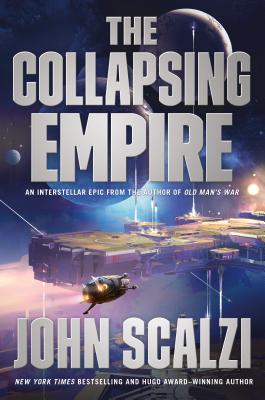 Gibson's Bookstore is thrilled to welcome back John Scalzi as he presents The Collapsing Empire, the first novel of a new space-opera sequence set in an all-new universe by the Hugo Award-winning, New York Times-bestselling author of Redshirts and Old Man's War.​
Can't make the event? Give us a call (603-224-0562) or email us (michael@gibsonsbookstore.com) to have us put a copy aside to have signed for you.
One of the most popular and acclaimed science fiction authors to emerge in the last decade, John Scalzi returns with the beginning of all new saga: THE COLLAPSING EMPIRE. Entertaining, hilarious, and creative both in his books and his online musings, Scalzi continues to cement his well-deserved prominent place in the literary world.
​Our universe is ruled by physics and faster than light travel is not possible—until the discovery of The Flow, an extra-dimensional field we can access at certain points in space-time that transport us to other worlds, around other stars.
Humanity flows away from Earth, into space, and in time forgets our home world and creates a new empire, the Interdependency, whose ethos requires that no one human outpost can survive without the others. It's a hedge against interstellar war—and a system of control for the rulers of the empire.
The Flow is eternal—but it is not static. Just as a river changes course, The Flow changes as well, cutting off worlds from the rest of humanity. When it's discovered that The Flow is moving, possibly cutting off all human worlds from faster than light travel forever, three individuals—a scientist, a starship captain and the Empress of the Interdependency—are in a race against time to discover what, if anything, can be salvaged from an interstellar empire on the brink of collapse.
​THE COLLAPSING EMPIRE is eagerly awaited by all of Scalzi's fans around the world, and also serves as a great new entry point to anyone looking for an intelligent action-packed ​science fiction read!
JOHN SCALZI is the author of several SF novels including the bestselling Old Man's War sequence, comprising Old Man's War, The Ghost Brigades, The Last Colony (a New York Times bestseller), Zoe's Tale, The Human Division​, and The End of All Things​. His other novels include the New York Times bestsellers Lock In, Fuzzy Nation and Redshirts; the latter novel won science fiction's Hugo Award in 2013. He also won a Hugo Award for Your Hate Mail Will Be Graded, a collection of essays from his popular blog The Whatever. He lives in Ohio with his wife and daughter. ​
A note on parking, for attendees:
On-street parking is scarce: Gibson's strongly suggests using the Capitol Commons parking garage at 75 Storrs Street, which is one street east (or downhill) from South Main Street and Gibson's Bookstore. The 2nd floor of the parking garage exits directly onto South Main Street, one and a half blocks away from Gibson's (head left when exiting the stairwells on foot, away from the lighted 4-way intersection). Parking is free after 5 p.m.
Event date:
Thursday, April 6, 2017 - 7:00pm

Email or call for price.
ISBN: 9780765388889
Availability: Out of Print
Published: Tor Books - March 21st, 2017
*2018 LOCUS AWARD WINNER OF BEST SCIENCE FICTION NOVEL*
*2018 HUGO AWARD FINALIST FOR BEST NOVEL*

"John Scalzi is the most entertaining, accessible writer working in SF today." —Joe Hill, author of The Fireman

---

$16.99
Likely available, but must be ordered by email/phone
ISBN: 9780765334794
Published: Tor Books - January 15th, 2013
Ensign Andrew Dahl has just been assigned to the Universal Union Capital Ship Intrepid, flagship of the Universal Union since the year 2456. It's a prestige posting, with the chance to serve on "Away Missions" alongside the starship's famous senior officers.

---

$17.99

ISBN: 9780765315243
Availability: Usually Ships in 1-5 Days
Published: Tor Books - December 27th, 2005
Perfect for an entry-level sci-fi reader and the ideal addition to a veteran fan's collection, John Scalzi's Old Man's War will take audiences on a heart-stopping adventure into the far corners of the universe.

John Perry did two things on his 75th birthday. First he visited his wife's grave. Then he joined the army.

---