Tuesday, April 28th, 2020, 6 p.m. EST
Online only.
Did you miss it? Check out the recorded event here: https://www.youtube.com/watch?v=nEGkx-ks_CU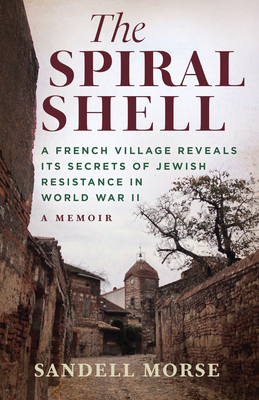 Sandell Morse joins Rebecca Rule in conversation to discuss Sandell's new book, The Spiral Shell: A French Village Reveals Its Secrets of Jewish Resistance in World War II, one woman's rediscovery of identity and faith.
There are times in each of our lives when we make a journey that takes us beyond the physical place we've ventured in order to reveal a different, greater sense of ourselves and our place in history. For author Sandell Morse what started out as a research project became an unexpected rediscovery of identity and faith.
In her haunting memoir, The Spiral Shell, she uncovers long silenced stories of bravery, and in turn finds deeper meaning and understanding of her own Jewish heritage.
After the war, as the author describes, "truth went underground" and the stories of those who resisted and escaped were left buried and unheard. Morse gradually befriended and gained the trust of several individuals who shared their stories of that harrowing time. In a narrative that unfolds and overlaps both past and present, the author in turn discovers truths about her own life and Jewish history, denied her in childhood, and that she now more fully comprehends in light of the brave and selfless actions of those who chose to fight against bigotry, oppression, and genocide.
About the author
Sandell Morse is a non-fiction writer whose works have appeared in several major literary magazines, including Ascent, Ploughshares, Fourth Genre, and Solstice. She has received a Notable Mention in the Best American Essays 2013, and a nomination for the Pushcart Prize and Best of The Net. She lives in Maine.
Event date:
Tuesday, April 28, 2020 - 6:00pm

$24.95
ISBN: 9781943156924
Availability: On Our Shelves Now
Published: Schaffner Press, Inc. - April 14th, 2020
April 2020 will mark the 80th Anniversary of the fall of France to Nazi Germany, and the establishment of the provisional government of the Vichy state, a puppet of the Axis regime, to carry out the arrest and deportation of all Jewish civilians.

---