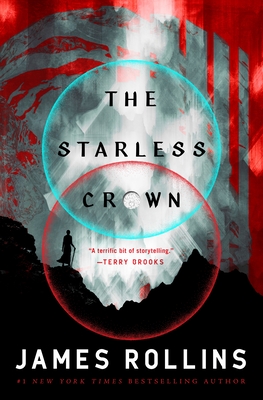 Monday, January 10th, 2022, 7pm Eastern. Online only, via Crowdcast. Registration required: https://www.eventbrite.com/e/229494914467
Copper Dog Books, Gibson's Bookstore, and Tubby & Coos Mid-City Bookshop are pleased to present James Rollins, in conversation with Terry Brooks, as they discuss James's new novel, The Starless Crown! Copies of The Starless Crown purchased from these bookstores will come signed and with a Fight the Moon pin.
Register for this event from the bookstore closest to you!
An alliance embarks on a dangerous journey to uncover the secrets of the distant past and save their world in this captivating, deeply visionary adventure from #1 New York Times bestselling thriller-master James Rollins.

A gifted student foretells an apocalypse. Her reward is a sentence of death.
Fleeing into the unknown she is drawn into a team of outcasts:
A broken soldier, who once again takes up the weapons he's forbidden to wield and carves a trail back home.
A drunken prince, who steps out from his beloved brother's shadow and claims a purpose of his own.
An imprisoned thief, who escapes the crushing dark and discovers a gleaming artifact - one that will ignite a power struggle across the globe.
On the run, hunted by enemies old and new, they must learn to trust each other in order to survive in a world evolved in strange, beautiful, and deadly ways, and uncover ancient secrets that hold the key to their salvation.
But with each passing moment, doom draws closer.
WHO WILL CLAIM THE STARLESS CROWN?
Sign up for the events-specific email newsletter from Gibson's Bookstore! Separate from our main store newsletter, this newsletter sends you notices when we book events, and what our upcoming events are! We promise not to sell your email address. https://signup.e2ma.net/signup/1947324/1359315/
Event date:
Monday, January 10, 2022 - 7:00pm

$28.99

ISBN: 9781250816771
Availability: On Our Shelves Now
Published: Tor Books - January 4th, 2022
An alliance embarks on a dangerous journey to uncover the secrets of the distant past and save their world in this captivating, deeply visionary adventure from #1 New York Times bestselling thriller-master James Rollins.

A gifted student foretells an apocalypse. Her reward is a sentence of death.

Fleeing into the unknown she is drawn into a team of outcasts:

---

$28.00

ISBN: 9780593357385
Availability: Usually Ships in 1-5 Days
Published: Del Rey - October 19th, 2021
NATIONAL BESTSELLER • The electrifying first novel of an all-new fantasy series from the legendary author behind the Shannara saga, about a human girl struggling to find her place in a magical world she's never known

"Enticing . . . Brooks's fans will be thrilled to have a new series to savor."—Publishers Weekly

---