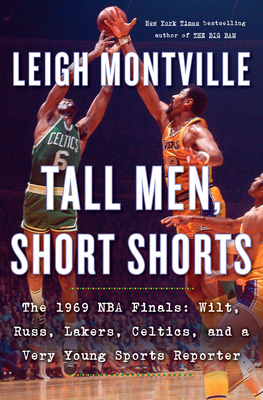 Thursday, July 15th, 2021, 7pm EST. Online only via Zoom. Registration required: https://www.eventbrite.com/e/160243407345
A clash of NBA titans. Seven riveting games. One young reporter. Welcome to the 1969 NBA Finals.
Sports journalist Leigh Montville visits Gibson's Bookstore virtually to present Tall Men, Short Shorts: The 1969 NBA Finals: Wilt, Russ, Lakers, Celtics, and a Very Young Sports Reporter, a masterpiece of sports journalism with a charming touch of personal memoir. Leigh Montville has crafted his most entertaining book yet, richly enshrining luminous players and moments in a unique American time. Leigh will be joined in conversation by author Ian Thomsen (The Soul of Basketball).
Copies of Tall Men, Short Shorts purchased from Gibson's Bookstore will include a signed bookplate from Leigh Montville!
About the author: Three-time New York Times bestselling author LEIGH MONTVILLE is a former columnist at The Boston Globe and former senior writer at Sports Illustrated. He is the author of Sting Like A Bee, Evel, The Mysterious Montague, The Big Bam, Ted Williams, At the Altar of Speed, Manute, and Why Not Us? He lives in Boston.
Ian Thomsen, author of The Soul of Basketball, has been a sportswriter at Sports Illustrated magazine and the International Herald Tribune, among other places. His first job was with The Boston Globe, where he covered Doug Flutie at Boston College and became a colleague and friend of Leigh's.
Sign up for the events-specific email newsletter from Gibson's Bookstore! Separate from our main store newsletter, this newsletter sends you notices when we book events, and what our upcoming events are! We promise not to sell your email address. https://signup.e2ma.net/signup/1947324/1359315/
Event date:
Thursday, July 15, 2021 - 7:00pm