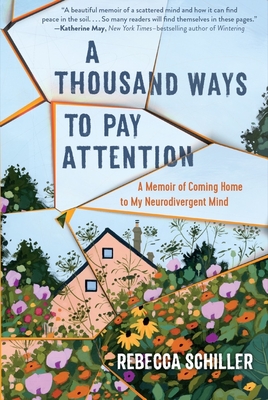 Wednesday, May 25th, 2022, 6pm Eastern. Online only, via Zoom. Registration required: https://www.eventbrite.com/e/336626648367
Did you miss this event? Watch it on the Gibson's Bookstore Youtube channel! https://youtu.be/jl2iz8dyaHc
As propulsive as Brain on Fire and as poetically candid as The Collected Schizophrenias, one woman's quest for the truth of her neurodivergent mind. A Thousand Ways to Pay Attention: A Memoir of Coming Home to My Neurodivergent Mind.
Rebecca Schiller joins Gibson's Bookstore virtually to present her memoir about discovering her Adult ADHD diagnosis, and how it explained her mind, her struggles, and how it affects her life. Rebecca is joined in conversation with New York Times bestselling author Joyce Maynard (Count the Ways), who has recently reckoned with her own late diagnosis of ADHD.
It should have been Rebecca Schiller's dream come true: moving her young family to the English countryside to raise goats and coax their own fruit and vegetables from the land. But, as she writes: The summer of striding out toward a life of open fields and sacks of corn, I brought a confused black hole of something pernicious but not yet acknowledged along for the ride.

Rebecca's health begins to crumble, with bewildering symptoms: frequent falls, uncontrollable rages, and mysterious lapses in memory. As she fights to be seen by a succession of specialists, her fledgling homestead—and her family—hang by increasingly tenuous threads. And when her diagnosis finally comes, it is utterly unexpected: severe ADHD.

In her scramble for answers, Rebecca's consciousness alternately sears with pinpoint focus and spirals with connections. Childhood memories resurface with new meaning, and her daily life entwines with the history of intrepid women who tended this land before her. Her family weathers their growing pains where generations of acorns have fallen to rise again as trees, where ancient wolves and lynx once stalked the shadows.

Written in unsparing, luminous prose, this is an all-absorbing memoir of one woman's newfound neurodivergence—and a clarion call to overturn the narrative that says minds are either normal and good or different and broken.
Sign up for the events-specific email newsletter from Gibson's Bookstore! Separate from our main store newsletter, this newsletter sends you notices when we book events, and what our upcoming events are! We promise not to sell your email address. https://signup.e2ma.net/signup/1947324/1359315/
Event harassment policy
We expect all participants to maintain an atmosphere of respect and fairness. Anyone who violates this standard of behavior, including engaging in any form of harassment, or otherwise disrupts the event, may, at the discretion of the organizers, be immediately removed. Participants removed as a result of their behavior will not receive any refund.
Event date:
Wednesday, May 25, 2022 - 6:00pm

$25.95

ISBN: 9781615198801
Availability: On Our Shelves Now
Published: The Experiment - April 26th, 2022
In this "exquisite and probing narrative" (Publishers Weekly) of life on her small farm in the year leading up to a surprising diagnosis of severe ADHD, Rebecca Schiller pens a vivid rallying cry for anyone wondering if different doesn't have to mean broken

It should have been Rebecca Schiller's dream come true: moving her young family to the
---

$28.99

ISBN: 9780062398277
Availability: On Our Shelves Now
Published: William Morrow - July 13th, 2021
In her most ambitious novel to date, New York Times bestselling author Joyce Maynard returns to the themes that are the hallmarks of her most acclaimed work in a mesmerizing story of a family—from the hopeful early days of young marriage to parenthood, divorce, and the costly aftermath that ripples through all their lives
---

$16.99

ISBN: 9780062398284
Availability: On Our Shelves Now
Published: William Morrow Paperbacks - July 5th, 2022
In her most ambitious novel to date, New York Times bestselling author Joyce Maynard returns to the themes that are the hallmarks of her most acclaimed work in a mesmerizing story of a family—from the hopeful early days of young marriage to parenthood, divorce, and the costly aftermath that ripples through all their lives
---