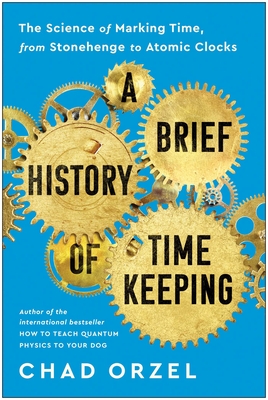 Thursday, January 27th, 2022, 7pm Eastern. Online only via Zoom. Registration required: https://www.eventbrite.com/e/230445698287
Chad Orzel visits Gibson's Bookstore virtually to discuss his new book, A Brief History of Timekeeping: The Science of Marking Time, from Stonehenge to Atomic Clocks.
It's all a matter of time—literally.
From the movements of the spheres to the slipperiness of relativity, the story of science unfolds through the fascinating history of humanity's efforts to keep time.

Our modern lives are ruled by clocks and watches, smartphone apps and calendar programs. While our gadgets may be new, however, the drive to measure and master time is anything but—and in A Brief History of Timekeeping, Chad Orzel traces the path from Stonehenge to your smartphone.

Predating written language and marching on through human history, the desire for ever-better timekeeping has spurred technological innovation and sparked theories that radically reshaped our understanding of the universe and our place in it.
Sign up for the events-specific email newsletter from Gibson's Bookstore! Separate from our main store newsletter, this newsletter sends you notices when we book events, and what our upcoming events are! We promise not to sell your email address. https://signup.e2ma.net/signup/1947324/1359315/
Event date:
Thursday, January 27, 2022 - 7:00pm

$16.95

ISBN: 9781953295606
Availability: On Our Shelves Now
Published: BenBella Books - January 25th, 2022
"A wonderful look into understanding and recording time, Orzel's latest is appropriate for all readers who are curious about those ticks and tocks that mark nearly every aspect of our lives."
—Booklist
 
"A thorough, enjoyable exploration of the history and science behind measuring time."
---

$17.00

ISBN: 9781416572299
Availability: Usually Ships in 1-5 Days
Published: Scribner - December 7th, 2010
Learn the basics of quantum physics with this clever, fun, and lighthearted introduction to modern physics based on a series of conversations with Chad Orzel and his dog Emmy.

When physics professor Chad Orzel went to the pound to adopt a dog, he never imagined Emmy. She wasn't just a friendly mutt who needed a home.
---