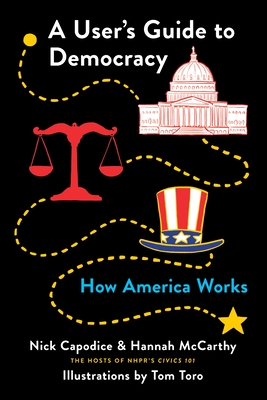 Wednesday, December 2nd, 2020, 7pm Eastern. Online only via Zoom. Registration required: https://www.eventbrite.com/e/129935104395
Did you miss this event? Not to worry, you can watch it on our Youtube channel! https://youtu.be/AUQibexztmc
Join Gibson's Bookstore virtually for a night of politics! Nick Capodice and Hannah McCarthy (hosts of NHPR's CIVIC 101) share their book, A User's Guide to Democracy: How America Works, a lively crash course in how the US Government works, and discuss what steps we can expect during the Presidential transfer of power. They are joined by author Seth Masket, author of Learning from Loss: The Democrats, 2016-2020, as he presents the strategic choices the Democratic Party made after losing the 2016 Presidential election.
Event date:
Wednesday, December 2, 2020 - 7:00pm

$16.99
ISBN: 9781250751843
Availability: On Our Shelves Now
Published: Celadon Books - September 8th, 2020
From Nick Capodice & Hannah McCarthy, the hosts of New Hampshire Public Radio's Civics 101, and New Yorker cartoonist Tom Toro, A User's Guide to Democracy is a lively crash course in everything you should know about how the US government works.

---

$24.95
ISBN: 9781108482127
Availability: On Our Shelves Now
Published: Cambridge University Press - September 22nd, 2020
The Democrats' decision to nominate Joe Biden for 2020 was hardly a fluke but rather a strategic choice by a party that had elevated electability above all other concerns. In Learning from Loss, one of the nation's leading political analysts offers unique insight into the Democratic Party at a moment of uncertainty.
---