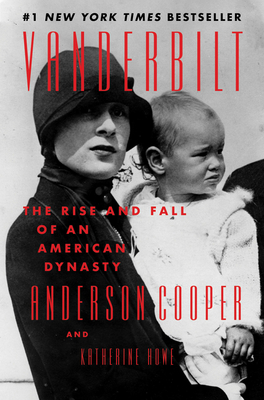 Friday, September 24th, 2021, 6pm EST, online only via Zoom Webinar. Ticketed event: http://www.eventbrite.com/e/167501548641
Gibson's Bookstore is pleased to join Books & Books in Florida and indie bookstores across America to virtually present Anderson Cooper as he shares his new book, Vanderbilt: The Rise and Fall of an American Dynasty. He is joined in conversation by his co-author, novelist and historian Katherine Howe.
New York Times bestselling author and journalist Anderson Cooper teams with New York Times bestselling historian and novelist Katherine Howe to chronicle the rise and fall of a legendary American dynasty—his mother's family, the Vanderbilts.
This event is ticketed. Your book purchase of Vanderbilt ($30) gains you digital entry into the Zoom Webinar audience. Shipping is available.
"A dramatic tale expertly told of rapacious ambition, decadent excess, and covert and overt tyranny and trauma. . . . With resplendent detail, the authors capture the gasp-eliciting extravagance of the Vanderbilt Gilded Age mansions. . . . With its intrinsic empathy and in-depth profiles of women, this is a distinctly intimate, insightful, and engrossing chronicle of an archetypal, self-consuming American dynasty. . . . Irresistible."
— Booklist (starred review)
Katherine Howe is a novelist and historian of America. She holds a BA in art history and philosophy from Columbia and an MA in American and New England Studies from Boston University, where she also did doctoral work. She is the author of the New York Times bestsellers The Physick Book of Deliverance Dane and The House of Velvet and Glass, as well as the young adult novels Conversion and The Appearance of Annie van Sinderen. She served as editor of The Penguin Book of Witches. She has appeared on NPR, National Geographic, Smithsonian TV, the Travel Channel, and Good Morning America. She lives with her family in New England and New York City.
Event date:
Friday, September 24, 2021 - 6:00pm

$30.00

ISBN: 9780062964618
Availability: Usually Ships in 1-5 Days
Published: Harper - September 21st, 2021
New York Times bestselling author and journalist Anderson Cooper teams with New York Times bestselling historian and novelist Katherine Howe to chronicle the rise and fall of a legendary American dynasty—his mother's family, the Vanderbilts.

One of the Washington Post's Notable Works of Nonfiction of 2021
---