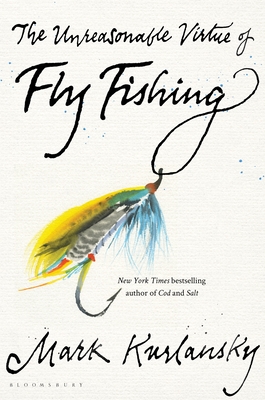 Tuesday, March 2nd, 2021. 7pm Eastern. Online only via Zoom. Registration required: https://www.eventbrite.com/e/138332898423
Did you miss this event? You can watch it on the Gibson's Bookstore Youtube channel, here: https://youtu.be/6-_fUrhnjGY
From the award-winning, bestselling author of Cod--the irresistible story of the science, history, art, and culture of the least efficient way to catch a fish.
Gibson's Bookstore is pleased to virtually present Mark Kurlansky, with his new book, The Unreasonable Virtue of Fly-Fishing. He is joined in conversation by NH author Steve Angers (Fly Fishing New Hampshire's Secret Waters, owner of North Country Angler in North Conway).

Fly fishing, historian Mark Kurlansky has found, is a battle of wits, fly fisher vs. fish--and the fly fisher does not always (or often) win. The targets--salmon, trout, and char; and for some, bass, tarpon, tuna, bonefish, and even marlin--are highly intelligent, wily, strong, and athletic animals. The allure, Kurlansky learns, is that fly fishing makes catching a fish as difficult as possible. There is an art, too, in the crafting of flies. Beautiful and intricate, some are made with more than two dozen pieces of feather and fur from a wide range of animals. The cast as well is a matter of grace and rhythm, with different casts and rods yielding varying results.
Event date:
Tuesday, March 2, 2021 - 7:00pm