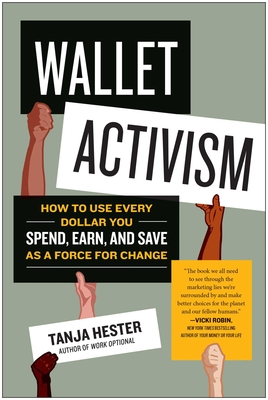 Monday, November 22nd, 2021, 7pm EST, online only via Zoom Webinar. Registration required: https://www.eventbrite.com/e/188615793917
Did you miss this event? Watch the recording on the Gibson's Bookstore Youtube channel: https://youtu.be/dxwc0bdF2mU
Gibson's Bookstore is pleased to welcome Tanja Hester as she presents her new book Wallet Activism: How to Use Every Dollar You Spend, Earn, and Save as a Force for Change.
How do we vote with our dollars, not just to make ourselves feel good, but to make a real difference?
Wallet Activism challenges you to rethink your financial power so can feel confident spending, earning, and saving money in ways that align with your values.
While we call the American system a democracy, capitalism is the far more powerful force in our lives. The greatest power we have—especially when political leaders won't move quickly enough—is how we use our money: where we shop, what we buy, where we live, what institutions we entrust with our money, who we work for, and where we donate determines the trajectory of our society and our planet. While our votes and voices are essential, too, Wallet Activism helps you use your money for real impact.
Wallet Activism goes beyond simple purchasing decisions to explore:
• The impacts a financial decision can have across society and the environment
• How to create a personal spending philosophy based on your values
• Practical questions to quickly assess the "goodness" of a product or an entity you may buy from
• The ethics of earning money, choosing what foods to eat, employing others, investing responsibly, choosing where to live, and giving money away
Event date:
Monday, November 22, 2021 - 7:00pm

$17.95

ISBN: 9781953295590
Availability: Usually Ships in 1-5 Days
Published: BenBella Books - November 16th, 2021
2022 NATIONAL INDIE EXCELLENCE AWARDS FINALIST — SOCIAL/POLITICAL CHANGE • 2022 ASJA ANNUAL WRITING AWARD WINNER — SERVICE • 2022 NAUTILUS BOOK AWARDS GOLD MEDALIST — SOCIAL CHANGE & SOCIAL JUSTICE • 2022 AXIOM BUSINESS BOOK AWARD GOLD MEDALIST — PHILANTHROPY/NONPROFIT/SUSTAINABILITY

---