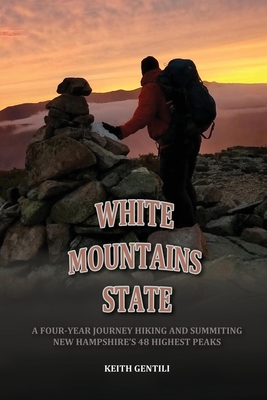 Tuesday, May 9th, 2023, 6:30 p.m.
Journalist, husband, father, friend, hiker. Keith Gentili visits Gibson's Bookstore to share his book on hiking as the everyman, a recreational hiker who has climbed New England's 100 highest summits, discovering new things about himself, his life, and his relationships along the way, with White Mountains State: A Four-Year Journey Hiking and Summiting New Hampshire's 48 Highest Peaks.
The book, at its core, is about relationships and not simple hiking. It is about the relationships between a group of people who, over time, commit to a larger goal than their own self-interest. It is also about each individual's relationship with the goal, which in this case is the mountains and climbing all 48 of them. It is also about family and a hiker's relationship with their family, and how that support and love is necessary to complete the goal. There are both husband-wife, and father-daughter relationships explored as well as the evolving dynamic amongst friends as they become family through their hiking partnership and a level of ongoing/increasing trust and support.
Masks are strongly encouraged but no longer required for vaccinated attendees. We can't predict the future course of the pandemic, so Gibson's reserves the right to institute masking and/or vaccination rules for this event as circumstances dictate.
If you cannot make this event, signed copies of White Mountains State may be ordered from the Gibson's Bookstore website.
Sign up for the events-specific email newsletter from Gibson's Bookstore! Separate from our main store newsletter, this newsletter sends you notices when we book events, and what our upcoming events are! We promise not to sell your email address. https://signup.e2ma.net/signup/1947324/1359315/
Event date:
Tuesday, May 9, 2023 - 6:30pm

$20.95

ISBN: 9781734930887
Availability: On Our Shelves Now
Published: Tmc Books LLC - November 21st, 2022
---