Wednesday, June 24th, 2020, 6 p.m. EDT, online only via Zoom. Did you miss this? Not to worry, we recorded it!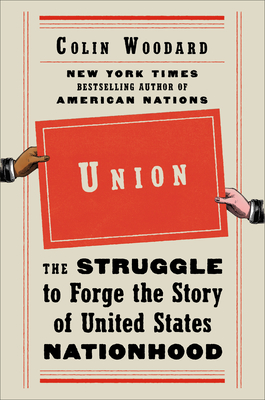 Historian Colin Woodard (American Nations) visits Gibson's Bookstore virtually to discuss Union: The Struggle to Forge the Story of United States Nationhood. In Union, Woodard returns to the historical study of a fractured America by examining how a myth of national unity was created and fought over in the nineteenth century--a myth that continues to affect us today.
We will be hosting Colin in Zoom Webinar. ZOOM is free for audience members to use. We encourage you to familiarize yourself with ZOOM ahead of time. A ZOOM widget (computer) or app (smartphone) and an internet connection are required to participate. There is no admittance fee to attend this virtual event, but event registration is required. A registration link can be found here: https://us02web.zoom.us/webinar/register/4415919790649/WN_t4qLz_WzRsOt-3kkDjoQJQ
Please note that registration serves only to deter casual zoom-bombers, and does not guarantee a spot if the meeting reaches capacity (100). The software fills the meeting room based on time of arrival, not registration date.
Colin Woodard, a New York Times bestselling author and historian, is the state and national affairs writer at the Portland Press Herald, where he received a 2012 George Polk Award and was a finalist for the 2016 Pulitzer Prize for explanatory reporting. A longtime foreign correspondent for The Christian Science Monitor and the San Francisco Chronicle, he has reported from more than fifty foreign countries and six continents. His work has appeared in The New York Times, The Washington Post, The Economist, Smithsonian,Politico, and dozens of other publications. A graduate of Tufts University and the University of Chicago, he is the author of American Nations, American Character, The Lobster Coast, The Republic of Pirates, and Ocean's End. He lives in Maine.
Event date:
Wednesday, June 24, 2020 - 6:00pm